In early 2021, JICA Tanzania launched a handwashing campaign to overcome COVID-19 and other infectious diseases. JICA is appealing to the public with our slogan; "Let's get rid of diseases by washing our hands regularly" which translates to "Tokomeza magonjwa kwa kunawa mikono mara kwa mara" in Swahili.
Germs on unwashed hands can be transferred to other objects such as tabletops, doorknobs toys, etc. and then to other children. Removing germs by handwashing is therefore an effective way to prevent diarrhea, respiratory infections and even other communicable diseases.
We started it in our office and encouraged all the staff to wash their hands properly. We then introduced outside JICA office beginning with to JICA projects and its personnel.
For this campaign, we created nearly 20,000 posters and 500 banners with manga cartoons designed by Ms INOUE Kimidori to promote hygiene habits and behavior change symbolized by handwashing at the right time and the right way. It is important that we take action to contribute to the prevention of infectious diseases for our families and our country by incorporating a proper handwashing habits.
Keeping all children healthy is an important goal of childcare programs, and proper and careful handwashing can help children and childcare providers prevent the spread of germs that can cause illness.
We introduced this campaign to a few selected schools in Illala and Kinondoni, then extended to all public primary schools in all fice districts of Dar es Salaam covering more than 50,000 students in total. We prepared an above manga cartoon and a banner showing proper handwashing procedure and the importance of hand washing, which was demonstrated by five volunteer kids to the school children.
The Handwashing campaign also reached eight primary schools and four secondary schools in the Kisarawe region, covering nearly 6,000 students
During this campaign, JICA received a lot of positive feedback from beneficiary schools, some of which are as follows;
The Head Teacher of Olympio Primary School: "We thank JICA for this campaign. We believe it will influence behavior change within our students. They will be the good ambassador to their friends and relatives" .
A student from Diamond Primary school: "I really like the cartoons, apart from enjoying the cartoons I am also learning the importance of washing my hands timely, thank you JICA".
The Head Teacher of Kigogo Primary School: "Thanks to JICA support to Tanzania, today we receive this burner and Manga cartoons it will remind the students of the importance of hand wash, we are looking forward to continuing with this relation".
A student's feedback: "We are happy and we learned the importance of hand wash. Before I was washing my hands a few times maybe before or after a meal, but today I learned it is important to wash my hands many times after touching or finishing doing some things so that I can remove the bacteria, which I cannot see with my eyes. Thank you".
Lastly, we would like to expand this campaign to government primary schools, government hospitals, and government secondary schools in Zanzibar. JICA hopes that this campaign will spread to a wider area of Tanzania.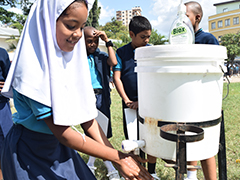 A student at Diamond primary school practicing proper and careful steps for handwashing observing 20 second at each Steps.
Nearly 20,000 posters and 500 banners with manga cartoons are distributed to all public primary schools in Dar es Salaam and several primary schools and secondary schools in Kisarawe region.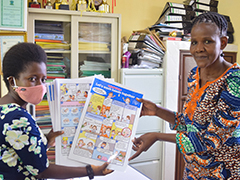 From the right is a schoolteacher Ms. Florentina Marko Mgeleka a deputy head teacher at Diamond Primary school and on the left is Ms. Generoza Nduguru JICA staff and a member of Handwashing campaign.