A Japanese Company, Fumakilla Limited, which has been manufacturing household insecticide products for more than 100 years, is planning to introduce an advanced technology anti-mosquito product to fight against malaria, dengue fever, and other mosquito-related infectious diseases in the country, in collaboration with the Japan International Cooperation Agency (JICA).
With the technology, the new product (mosquito coil) produces less smoke to kill mosquitoes when it is used indoors and it repels mosquitoes when used outside.
"The new mosquito coil is a highly effective product against local mosquitoes. At the same time, it has achieved a high level of safety which is categorized as Class U (unlikely to present acute hazard) by the World Health Organization (WHO). It is a classification with very less smoke. Moreover its price will be affordable to most people," said Mr. Toshiaki Muramoto, head of a delegation of the Fumakilla Limited which visited Tanzania in mid-May 2022 for needs assessment supported by JICA.
During the visit, the delegation visited spot areas which are highly affected with malaria and dengue. Their visit was the first one since the approval of the Fumakilla's project as a JICA's Private Partnership Initiative in 2019, due to Covid-19 strict travel restrictions from Japan.
The move comes after Mr. Toshiaki Muramoto, a Japanese who researched the agricultural system in Morogoro Region in Tanzania for about one year, 27 years ago, with the support of the Sokoine University of Agriculture.
"When I was in the village, I visited farms every day to interview farmers and to collect soil for laboratory experiments. While working in the field, I was bitten by mosquitoes and contracted malaria three times within a year and was admitted to hospital two times," he noted.
After completing his studies, he went back to Japan and decided to work for Fumakilla Limited, and he thought there is a need to introduce the high quality mosquito coil, as a useful product in controlling malaria in Tanzania.
The Fumakilla's product has been already tested and approved by the Tropical Pesticide Research Institute (TPRI), the government agency which regulates the use of insecticide products in Tanzania.
The Fumakilla's needs assessment survey, supported by JICA, started in October 2020 and will come to an end in 2023, with three more planned visits to Tanzania.
During their visit, the delegation conducted group discussions with local communities to check the local compatibility of the Fumakilla's products, provided the products to residents for home use tests, and held workshops for raising public awareness.
Places designated for the survey are Dar es Salaam, Kilimanjaro, Arusha, Dodoma, Pwani and Mwanza Regions.
In this first JICA-Fumakilla assessment visit, the team made consultation meetings with government officials in-charge of vector control in the Ministry of Health (MoH) and the President's Office - Regional Administration and Local Government (PO-RALG) on the possibility of utilizing Fumakilla's product as a vector control means and the possible public-private partnership for promoting malaria prevention further.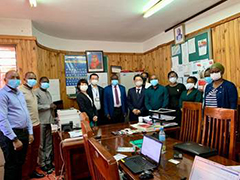 For more information please contact:
Ms. Flavia Manyanga
JICA Tanzania Office, P.O. Box 9450, Dar es Salaam
Tel: 022-211327/30 Fax: 022-2112976 Mobile: 0789-854615
Email: Manyangaflavia.TZ@jica.go.jp