JICA and Japan Aerospace Exploration Agency (JAXA) held the seminar aiming to introduce JJ-FAST system in Nkolbission, Cameroon on 9 October 2019. Over 20 participants who are in charge of the forest monitoring from various Cameroonian government agencies attended to the seminar and listened enthusiastically to the presentations given by JAXA researchers of JJ-FAST system.
Advanced Land Observing Satellite 2 (ALOS-2) used for JJ-FAST system has unique characteristics of detecting forest changes without influence of clouds, and users can access deforestation data through JJ-FAST on web bases with free and ease. The participants to this seminar was accessing to JJ-FAST site and they learned how to use the system, such as observing the detection of deforestation over the map with guidance from JAXA researchers.
JICA is implementing technical cooperation project in order to support Cameroonian government for combatting deforestation in Cameroon. JICA will continue to encourage forest monitoring with wide use of JJ-FAST through the Project.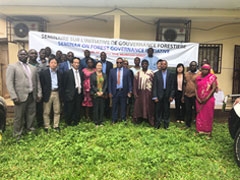 Group Photo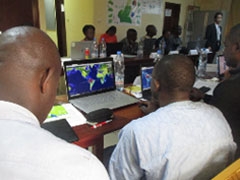 Participants are accessing JJ-FAST website and learning how to use.