Malawi, which is scarce in resources and has small land size, is one of the poorest countries in the world. As a Volunteer from Japan, I took time to consider what is necessary for the development of Information Communication Technology (ICT) in the country. I personally think it is very important to promote improvement of ICT techniques among the youth in the country. However, Malawi lacks basic ICT infrastructure and has minimum investment in the industry.
In order to improve this situation, we decided to hold a "typing competition" for secondary school students within Blantyre city that was held on 29th June, 2019. The competition aimed at enhancing computer operating skills among the students, who are expected to be the country's future Information Technology personnel.
As Japan Overseas Cooperation Volunteers (JOCVs) in the ICT field, we jointly prepared for the competition, making use of each other's skills in the different areas of ICT specialties. For the continuity of this competition in the future, he preparation was done in collaboration with local community members. The challenges that we encountered in preparing for this competition included setting the prize money for winners since the income disparity among Malawians is so high.
As a social responsibility, we secured a sponsored prize from "Bata Children's Program", a volunteer project implemented by Bata Shoe Company. Additionally, to promote the event, we hung posters in the nearby areas around the city and Social Networking Service (SNS) that mainly included Facebook posts. About 30 students from nine schools in the city participated in the typing competition.
During the day of the event, The Head of ICT Department in the College of Medicine in the University of Malawi held a lecture session that aimed at deepening the student's understanding of Information Technology. As soon as the typing competition started, there was total silence in the room as all the participants were typing and the only sound we heard was the sound computer keyboards that echoed inside the hall. When the time elapsed, the results showed on the big screen in front of the audience. After the competition, we conducted a satisfaction survey. The majority of the students who filled the questionnaire showed an interest for the similar competition to be held every year and almost all students appreciated the impact that the competition brought about. It was exciting to note that students started practicing typing in preparation for the next competition.
We are planning to hold the next competition next year in all the three major cities of the country. We are further planning to hold national level competition in which schools from different regions of the country will participate. In addition, we would like to expand the scale and influence of the competition, attract students' and society's ICT interest, stimulate ICT investment in education and economic society, and make it a social event that contributes to Malawi's economic development.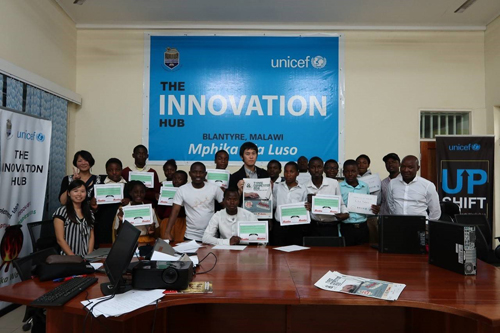 Participants at the typing competition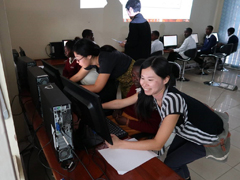 JICA Volunteers assisting the participants to prepare for the competition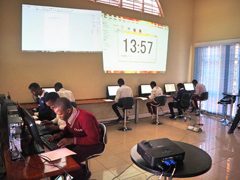 Typing competition in progress