On 20th November, Honourable Francis L. Kasaila, The Malawian Minister of Foreign Affairs and International Cooperation, and The Japanese Ambassador to Malawi, Her Excellency Ms. Kae Yanagisawa visited a monument in Lilongwe that was built in memory of the 12 Japan Overseas Cooperation Volunteers (JOCVs) who died while serving in the country. These 12 JOCVs passed away between the years 1992 to 2000 as a result of traffic accidents and malaria.
During the memorial service, Honourable Minister Kasaila, Ambassador Yanagisawa, JICA Malawi's Chief Representative, Mr. Koichi Kito and 8 representatives of JOCVs who are currently serving in the country laid flowers on the memorial pillar and prayed for the souls of the deceased volunteers.
In his closing speech during the ceremony, the Malawian Minister of Foreign Affairs and International Security on behalf of the people of Malawi expressed deepest regret for the loss of these 12 JOCVs. He further expressed hope that all JOCVs who are serving in Malawi now on, will safely work in the country and return to Japan upon finishing their term as volunteers without losing their lives. The minister pledged continued support towards the Japanese Government development efforts in Malawi.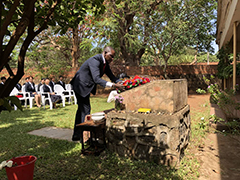 The Malawian Minister of Foreign Affairs and International Cooperation laying a wreath of flowers on the memorial pillar of the deceased volunteers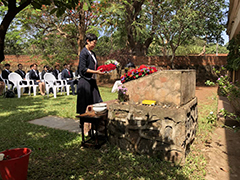 Ambassador Kae Yanagisawa laying a wreath of flowers on the memorial pillar of the deceased volunteers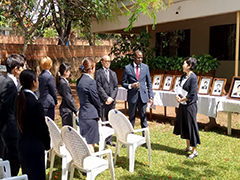 The Malawian Minister of Foreign Affairs and International Cooperation interacting with representatives of the volunteers who are currently serving in Malawi