In collaboration with Federal Capital Territory Water Board (FCTWB), JICA conducted a seminar facilitated by JICA Regional Water Advisor, Mr. Wataru Takashima. The Seminar promoted knowledge sharing by outlining the ordinances, operational procedures of water agencies in Yokohama and Tokyo.
Participants of FCTWB who were majorly area offices managers and their deputies, were able to understand and compare how water is governed in Japan and in their line of work at FCTWB.
The seminar was organized as part of plans to enhance the business operations of FCTWB since the President of Nigeria signed their bill in 2017 to operate autonomously.
To fully operate as an autonomous and business viable agency, FCTWB needs to establish the water ordinance in the FCT and promote measures that will enhance their operation.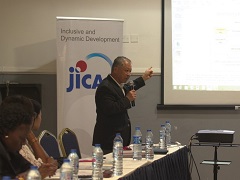 Mr. Takashima speaking as part of his presentation
The General Manager of FCTWB giving his remarks during the seminar