Mba Ugochukwu
JICA has sent one (1) participant from NEPZA (Nigeria Export Processing Zones Authority) to Japan in September 2019, for the Master's degree and Internship Program of the African Business Education Initiative for Youth (ABE Initiative) under the Japanese government's official development assistance.
Mr. Ayo Adedotun an officer from NEPZA emerged as the successful candidate for the 6th batch ABE-Initiative participant from Nigeria.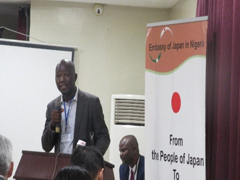 This program aims to integrate young Africans with effective skills and expertise in various fields of endeavor and potential contributors to the next face of Africa Industrialization. Through participation in Master's courses in Japanese universities and internships at Japanese enterprises, participants will obtain better understanding of Japanese society, culture and business ethics of Japanese companies, while understanding the rudiments of advancement. This program will enhance the creation of human network and strengthen bilateral relationships between the industries and enterprises of both Japan and Nigeria.
Over a period of four years, sixty five (65) Nigerians have been to Japan to benefit from this initiative, Forty Nine (49) participants have already completed the program. The event hosted eight (8) returnees from the third batch of ABE-Initiative programme, who shared their various experiences while studying in Japan and how they intend to become part of the future of Nigeria-Japan relationship and economic growth.
The Ambassador of Japan to Nigeria H.E. Mr. Yutaka KIKUTA expatiated on the importance and positive impacts of the ABE-Initiative programme and encourage the returnees to keep up the good work and show great examples in the society, he further congratulated the participant of the 6th batch and spoke the Nigeria local dialect in Yoruba, wishing him all the best in his future endeavors.
More so, JAAN (Japan Alumni Association of Nigeria) President and NAIJAA (Nigeria Japan Alumni Association) encouraged returnees to become active in becoming part of a stronger Network by active involvement in Alumni activities so as to become an important bridge to greater achievement, while taking cognizance of "Kakehashi Africa" an alumni of ex ABE-Initiative participants that was formulated in 2017 and officially registered as a non-profit organization in 2019, to become a bridge and foster the relationship between Japan and Africa.
The Chief Representative of JICA Nigeria Ms. Makiko OKUMURA expressed her happiness to meet ABE returnees and wished the outgoing sixth batch participant best of lucks.