Through an Open Innovation Challenge, FCT Water Board and Japan International Cooperation Agency are pioneering the use of new technologies in improving the service delivery of FCT Water Board to its customers.
Historically, FCT Water Board has been dealing with challenges of meter reading, bill collection and payment due to numerous reasons. However, a new collaboration with JICA shows technology could be the answer to such challenges.
In May 2019, more than 30 local companies were invited to proffer their technological ideas for solving FCTWB challenges through an Open Innovation Challenge. Startups pitched their ideas to a panel of judges from FCTWB and JICA.
In October, one company Jaffa technologies emerged winner in the competition. Jaffa has proposed the use of a mobile app for meter reading using Optical Character Recognition Technique.
They have also developed a new payment platform called Smartbills for all FCTWB customers to easily log in to FCTWB website and make their payment. The payment platform is currently functioning and can be accessed by all on the FCTWB website www.fctwb.gov.ng.
Jaffa is also developing a chatbot system to automatically and urgently respond to customer complaints on social media.
The project started in October and is expected to run till March 2020. It is planned that FCTWB service delivery to its customers and revenue generation will greatly improve after the project concludes.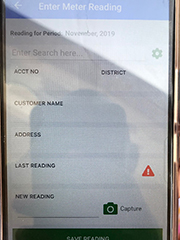 Image of internal environment of the Smart Phone Meter Reading App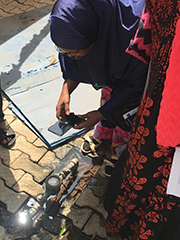 Image of a Meter Reader of FCTWB using the Mobile App to read the meter.