Introduction
South Sudan is one of the least developed countries due to the impact of successive decades of civil wars and poverty levels among the people is the world's highest. Domestic production of goods and services is at its infancy and travelling from one town to another either is notoriously difficult as all road networks connecting major towns and production areas in the region were destroyed by civil wars. The independence of South Sudan rises high expectation for socio-economic development and quality life for the citizens. As an independent country, development has picked up rapidly and international trade has surfaced with influx of various imports into the country. To sustain this development however, infrastructure remains one of the major pillars for South Sudan's economic development.
Current situation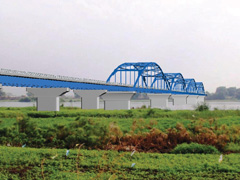 Freedom bridge completion forecast
As an import dependent country, more than 80% of imports to South Sudan cross the Nile River before reaching their final destinations. This gives excessive pressure from heavy traffic and loads to the existing Juba Bridge built in 1972 and has already been repaired for damages as shown in picture below for more than two times since 2005. If the situation of Juba Bridge is not addressed appropriately, it will be completely damaged and interfere with the economic development of South Sudan.
JICA South Sudan has initiated the idea to construct Freedom Bridge across the Nile River as a new gateway for South Sudan's future socio-economic prosperity once it is finished. This bridge will be the major Bridge in South Sudan with a total length of 560m, width 12.9m and access roads on both sides making a total of 3700m. Its completion is expected to lessen heavy traffics in Juba city and boost economic activities in the country.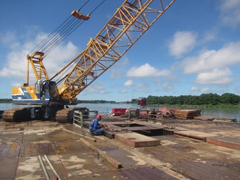 JICA's Freedom Bridge under construction in Lologo area-Juba
Freedom Bridge construction moving forward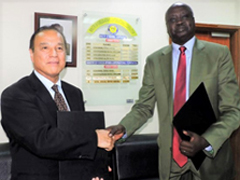 Japanese Ambassador, Seiji Okada and Nhial Deng Nhial, the Minister of Foreign Affairs and International Cooperation after signing additional grant Agreement on 18th March 2019 in Juba.
The construction of the bridge started in 2013. Unfortunately the outbreak of conflict later that same year prevented its progress and after resumption of work in 2015, it had to stop again for the second time due to the July 2016 fighting in Juba that led to the evacuation of all JICA's staff from the country. With improvement in the security situation, JICA staff came back to Juba in mid-2018 and on 18th March 2019, the government of Japan approved additional $28M for the completion of the bridge construction work.
JICA South Sudan hopes that, the additional funding and prospects of peace in South Sudan will bring optimism for smooth resumption of Freedom Bridge construction in May 2019.
JICA's implementing companies, CTI Engineering International Co., Ltd. and Dai Nippon Construction (DNC) have resumed the construction work on the Freedom Bridge in the beginning of May this year (2019) after two years of suspension following eruption of July 2016 conflict in Juba.
Linking construction work with local skills development
The sustainability of any international development project is based on how it integrates technical skills with local human resources development. Unlike other development projects implemented in South Sudan, the construction of Freedom Bridge by JICA South Sudan adopts an approach through which young and aspiring South Sudanese students are given the chance to acquire technical skills in engineering and construction.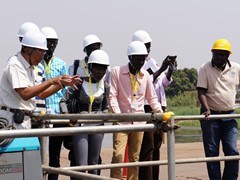 Engineering students taking lecture at Freedom Bridge in 2016
Mr. Umeda of CTI and Mr. Kusaka of DNC companies who are leading the construction of Freedom Bridge think that the future of South Sudan's infrastructure development relies on the young people who should be given the necessary skills they needed. This thought has resulted to a first ever school contest in the country where Grade 8 school children practiced architectural drawings and visited the construction site. As young learners, both CTI and DNC companies intend to inspire the children to start dreaming about engineering careers as they grow up. Additionally, fourth and fifth year engineering students of University of Juba and Christian University also got opportunities to take site tour and lecture to gain practical experience in large-scale construction project like Freedom Bridge, something not usual in this country.
As the construction of the bridge has resumed this May 2019, "we will organize again our students' visit program and send out invitation for students in the universities in Juba to come to the site and see how such a large scale high technology project is done so that they can have a better balance of what they learned in classroom and how that knowledge is applied here" explained Mr. Umeda.