Members of Aligo Women Association (AWA) in Oleba sub-county in Maracha district, who are beneficiaries of the The Project for Capacity Improvement of Local Government for Strengthening Community Resilience in Acholi and West Nile sub-regions (WACAP) have become self-reliant and gone ahead to support their spouses.
The group hires land, in addition to group owned land which they have been able to open using ox-ploughs provided by the project to grow cassava and groundnuts. They are also able to raise money, support each other and afford basic needs and some are educating their children in colleges.
In addition, they have weekly savings and offer loans to both members and non-members. Last year, they shared a substantial amount of savings and also bought hand hoes for each member.
Even when the WACAP project ends in June, there is no doubt that members of AWA are able to sustain themselves. They now brag about the good relationship they have with their spouses.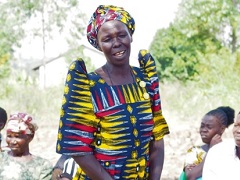 The leader of Aligo Women Association (AWA) Ms. Margret Faidako expresses gratitude to JICA/JICA.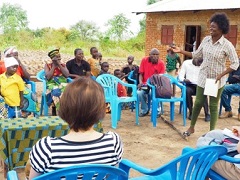 Ms. Abaro Stella former CDO of Maracha who supported the formulation of AWA expresses gratitude after highlighting the group's achievements.