Through the 2nd phase of the Promotion of Rice Development (PRiDe II) Project, JICA and MAAIF undertook to boost rice productivity of the farmers.
This was done through the Musomesa Field School (MFS), a technology dissemination model that identifies farmer instructors (Musomesa) in target communities, equips them with skills and knowledge of improved rice cultivation techniques through intensive training at each stage of plant growth.
In essence, the model promotes research-extension linkage and farmer-to-farmer extension with the technical support of the District Agricultural Officers (DAO). This was applied in districts of Kamwenge and Bugiri where farmer instructors were identified and equipped with skills and knowledge on improved rice cultivation.
With their newly acquired skills as 'Musomesa Graduates', the farmer instructors have trained rice farmers in good rice cultivation techniques.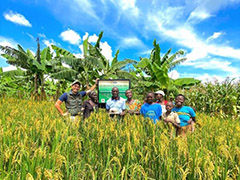 A JICA/PRiDe Expert with farmers in one of the rice demonstration fields in Kamwenge district, Uganda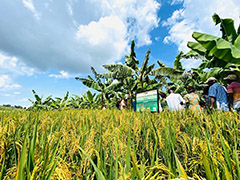 A JICA/PRiDe Expert with farmers in one of the rice demonstration fields in Kamwenge district, Uganda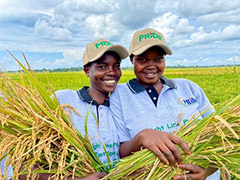 PRiDe 'Musomesas' showing off some of the harvest from their demonstration farms in Bugiri district, Uganda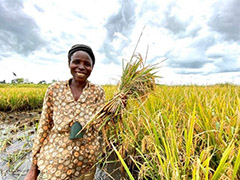 PRiDe 'Musomesas' showing off some of the harvest from their demonstration farms in Bugiri district, Uganda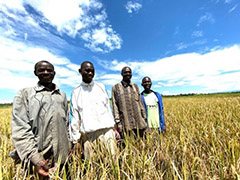 Some of the farmers trained through the MFS approach, in Kamwenge district, Uganda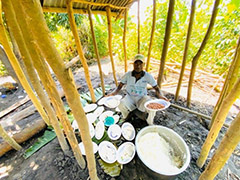 Some of the farmers trained through the MFS approach, in Kamwenge district, Uganda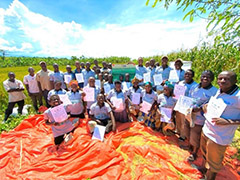 Graduates from the MFS approach who will be training fellow farmers in Kamwenge district, Uganda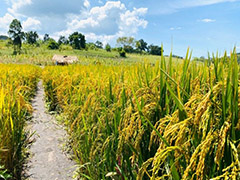 Graduates from the MFS approach who will be training fellow farmers in Kamwenge district, Uganda