The Project for Capacity Improvement of Local Government for Strengthening Community Resilience in Acholi and West Nile sub-regions (WACAP) is leaving behind several smiles in communities.
In a survey conducted recently, 97% of group leaders realized the improvement of livelihood in their communities. Some of the beneficiaries; Ulupi Apure savings group in Dranya sub-county in Koboko district could not contain their excitement as they thanked JICA through WACAP (in song and speech), for improving their lives.
The smiles and successes of this group are credited to its members, Community Development Officers and Japanese experts who engaged them in utilizing the planning tool and empowered them. The WACAP Project helped members of Ulupi Apure in various ways; provided oxen, spray pumps, ox-ploughs, knowledge through trainings, reduced labour costs and improved relationships between local government staff and partners, among others.
They are now able to raise money through renting out chairs, among other initiatives. They can also afford basic needs such as food, medical care and clothing for their families, and afford school dues.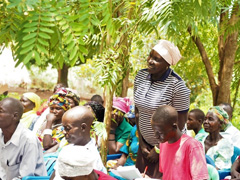 Community members express gratitude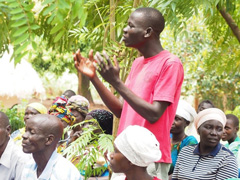 Community members express gratitude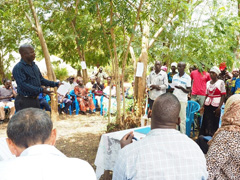 LC3 Chairperson of Koboko introduces members of Ulupi Apure Savings Group