At least 22 out of 30 public secondary schools in Mkuranga District are practicing 'school health programs' whereby schools are provided with special health care rooms and trained health teachers who are responsible for observing the health conditions of students.
According to Mr. Benjamin A. MAJOYA, the District Education Officer for Secondary schools, the idea of introducing such a health care system originally came from Japan and was first introduced into the district by Ms. Azusa OSAWA, who was a former member of the Japan Overseas Cooperation Volunteer Program (JOCV) who served in the country from 2011 to 2013.
After training in Japan under the auspices of JICA's Knowledge Co-Creation Program (KCCP), in 2014, Mr. MAJOYA worked closely with two other JICA volunteers (Ms. Keiko ITO and Ms. Yuna HONDA) to further promote the program.
"This health program gives great benefits to students and teachers. It helps students especially girls to understand their health conditions when facing various challenges during their adolescence" he said, adding: "Mkuranga district council provides first aid services including counselling and reproductive health education to teenagers so that they can be aware of biological changes in their bodies".
In another development, Mr. MAJOYA wished the program to be rolled out to the whole country since it has contributed a lot in the performance of the students in his district.
"I wish the government could enact a law which would roll out the program to cover all schools in the country," he said.
He also thanked JICA for assigning two other volunteers, Ms. Keiko ITO from 2013-2016 and Ms. Yuna HONDA from 2019 to 2020 adding that the three Japanese volunteers worked very hard, observed punctuality and their overall performance was worth emulation by all his district staff.
On her part another beneficiary of JICA training, Ms. Halima OMARY, a science teacher at Kiparang'anda Secondary School, praised the program saying it aimed at enabling the students to know how to cope with peer pressures and ways to stand for their career goals and complete the studies as well.
On another note, Ms. Yuna HONDA and another volunteer, Ms. Naoko SHIOSAKI (who worked in Dodoma), have created a video material in Swahili language on health issue of adolescence especially for girls titled, Balehe-Kuvunja ungo kwa wasichana :
Due to the Covid-19 pandemic, the two had to leave Tanzania in 2020. While in Japan they made this video based on what Ms. HONDA used to teach in Mkuranga.
Three officials in Mkuranga got a training in Japan through JICA's KCCP and joined a school health course. They observed and learned the Japanese education system and replicated it to the district.
JICA values a people-centered approach especially in Africa under the slogan of "Towards a resilient, inclusive, and prosperous Africa". In August, 2022, this year, the 8th Tokyo International Conference on African Development (TICAD8) will be held in Tunisia.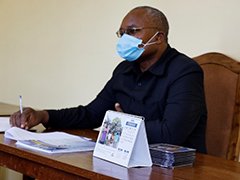 Mr. Benjamin Majoya, DEO, Mkuranga District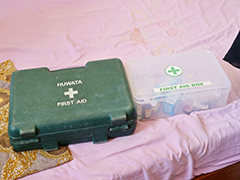 First Aid Kit at Kiparang'anda Sec. School
About Japan Overseas Cooperation Volunteers (JOCV) :
JOCV is a program under Japan International Cooperation Agency (JICA). JOCV started its operations in Tanzania in 1967 and by March 2020, more than 1,700 Japanese volunteers had been dispatched to work in various sectors and areas of Tanzania. The program aims at assisting developing countries to enhance social and economic development with emphasis on self-reliance for sustainable change in various sectors.
About Knowledge Co-Creation Program (KCCP) :
JICA's Knowledge Co-Creation Programs are a form of technical cooperation that JICA carries out in Japan, in a third country or online. Some of the knowledge that Japanese society has accumulated, including its background in areas such as organizational expertise and social systems can be understood more effectively through first-hand experience. The programs are an important means of technical cooperation, which supports human resource development and resolving issues in developing countries.
About Tokyo International Conference on African Development (TICAD 8) :
TICAD is an international conference on the theme of development in Africa. The first such conference (TICAD 1) was held in 1993 under the leadership of the Japanese government. In August 2022, this year, the 8th TICAD (TICAD 8) will take place in Tunisia. This will be the second time that such conference is held in Africa, following TICAD 7, which was hosted by Kenya in 2016. JICA aims to support Africa towards building a resilient, inclusive, and a prosperous continent. Under this objective, JICA is strengthening its cooperation to Africa according to the three pillars of TICAD: Society, Economy, and Peace.
About TICAD :
For further information, please contact:
JICA Tanzania Office, P.O. Box 9450,
Dar es Salaam, Tel: 022-211327/30
Ms. Noriko Ogasa: jicatz-vcs@jica.go.jp
Ms. Catherine Shirima: ShirimaCatherine.Tz@jica.go.jp