I am Rukiya of a JOCV member for Judo.
I and Batswana Judo team participated in the African Games, which is the biggest multi sport event and is held every four years.
All 54 nations in the continent contested for medals in 34 events in Rabat, Morocco.
Eight athletes from Botswana Judo Federation registered in five classes. For the Batswana Judoka, this contest is the most important opportunity for getting points to be granted entry qualifications to the Tokyo Olympic Games 2020 though, seven Judokas were defeated at first and second rounds while one advanced to the quarter finals.
Judo at Olympics has no regional qualifiers and each athlete should participate in international competitions as many times as possible and get bigger points.
During May 2020, Judo athletes who are ranked higher shall be invited to Olympic Games.
This is why the African Games was a good opportunity to acquire bigger points and medals accordingly.
However, it was unfortunate that we did not get medals this time around. Even though we lost, I can say that this was great opportunity for the Batswana Judo Team to come closer to winning the medals.
As it is, we have a long way to go to reach Tokyo 2020, however, I will do my best to bring the team to Tokyo.
Besides, because I have spent plenty of time with team members at camp and athlete's villages, this formed a strong bond among us especially in the French-speaking country and I developed love for the team with all my heart.
I will show you our photo in Rabat.
The team members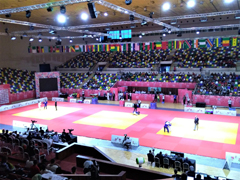 Competition venue
I have less than one year left for my assignment in Botswana and feel sad. However, again I will try my best for Tokyo 2020.
Rukiya Murakami, JOCV in Judo