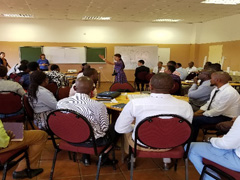 Workshop demonstration by volunteer
Teachers from primary schools in Kanye and surrounding areas have expressed their gratitude towards JICA Overseas Cooperation Volunteers (JOCV) under Mathematics and Science in Botswana for a successful and meaningful workshop that was held at Kanye Regional Education Centre recently. The workshop, which was an initiative by JOCV member, Ms. Shoko who is based at Logaba Primary School in Kanye, was aimed at sharing teaching methodologies for Mathematics that are widely used in Japan teaching systems and have proven to be improve learners' academic performance and thoroughly enjoyed by learners.
30 teachers from different schools participated in the workshop and Ms. Shoko was the facilitator, with the assistance and support of other volunteer teachers who are based in other schools. Demonstration was done by Standard 3 and 6 classes through engaging age appropriate learning techniques that were geared at improving the memory retention of learners. According to the observation made during the lessons, there was maximum interaction with learners by Ms. Shoko and their enthusiasm to participate in class was very high especially after the positive reinforcement.
At the end of the class demonstrations, teachers were divided into groups to discuss findings on the two lessons. Local teachers acknowledged the excellent teaching tools through song for multiplication, fractions, involvement of all learners in class by teachers, positive reinforcement, and high interaction by teachers. This they noted enabled the teacher to cover many topics in record time allowing for revision. However, they advised that special care needs to be considered for slow learners as the fast pace could leave them behind. One teacher, Mr. Motlatsi shared how he was impressed about the way Ms. Shoko also gave attention to the learner who showed signs of being a special need pupil by giving him the opportunity to answer questions. This he acknowledged, allowed him to participate in class confidently knowing that he can also contribute.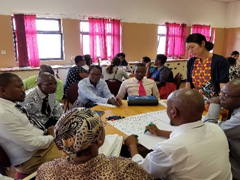 Participants writing comments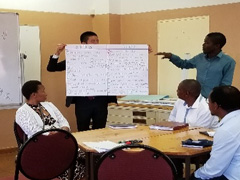 Presentations about their lessons
Giving her comments on the workshop, representative from Kanye Sub Region – Ministry if Basic Education, Ms. Galaletsang stated that the workshop by the very enthusiastic Ms. Shoko and other volunteers was a very good opportunity teacher and said it has revived their teaching experiences where she wished she could still be able to teach so she can practice such techniques. She shared that watching Ms. Shoko interact with student reminded her of the similar methodologies they used in the 90s when they did not have so much technology. She subsequently urged participating teachers to utilize some of the skills and experience from working with Ms. Shoko.
In conclusion, Ms. Galaletsang highly encouraged teacher to harness the skills and utilize them in their classes in order to contribute to improved academic performance in their respective schools. She thanked the JICA through volunteers for the illustrious job their doing for the country and wished to continue sending more volunteers.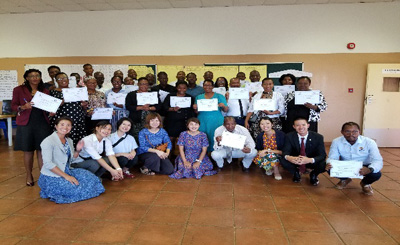 Group picture