Hello again, I am Sethunya. It is my great pleasure to introduce one of local crafters whom I have been supporting.
Ms. Basadi is a Herero woman from a village called Mokobaxane, one-hour drive away from Letlhakane where I stay. The village is dominated by the Herero tribe. She has been supported by the Poverty Eradication Project led by the Boteti Sub-District Council which I belong to and through this project, she now sews for a living.
Ms. Basadi who is a single mother of three children was born and raised in her village, and had been unemployed until she was introduced to sewing to make a living.
Five years ago, when she requested the Sub-District Council for additional support, the officer in charge introduced her to join the Poverty Eradication Project. This is when she began to learn how to sew as her mother used to do. Even though she had dress making training and a sewing machine from the council, she could hardly sell her merchandise in her home village. Village people requested her to alter their clothes from which she could not make enough money from it.
One of my colleagues suggested that we support her. I then taught her how to make a sample drawstring bag by using traditional german print material which is widely used in Southern Africa called"Mateisi". She developed the samples one by one with her manual sewing machine since she cannot pay for electricity.
I brought the samples to Maun, one of Botswana's popular tourism destinations, and showed them to a gift shop owner there. The owner was so impressed with them and said they have a very unique design and so cute. She really loved them so much.
Nowadays, Ms. Basadi gets orders from multiple gift shops and her sales have been increased accordingly. She developed with various colored material and then showed me a sample of bag as a new product while she produced along with my suggestions at the beginning. Recently, she has become so ambitious that she came to me to learn more about producing new gifts.
This is what she said;
"I was so surprised that many people bought gifts which I produced. Now, I am very happy to earn more money. I will produce more and sell them because my goal is to connect electricity to my house."
I will support her continuously to achieve her goal soon.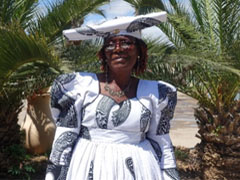 Ms Basadi in traditional Herero Tribal wear which was made by her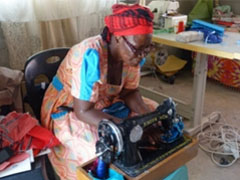 Ms Basadi is making a drawstring bag with manual sewing machine.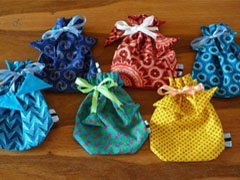 Drawstring bags made with "Mateisi"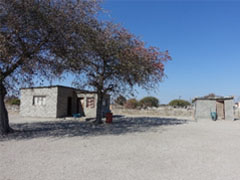 Ms Basadi's house in the village