On a global scale, Japanese students consistently achieve high rankings in mathematics and science. Japan places a lot of emphasis on its science, technology, engineering and mathematics (STEM) curriculum; this is partly to do with the belief that strength in these areas is the foundation for innovation.
Innovation is the key to boosting economies, creating jobs and improving quality of life – which are all crucial concerns for developing countries. With booming population growth and increasing competition in the global market place, emerging countries such as Ethiopia need to work hard to educate their people and ensure that they have the skills needed for success.
Studies have shown that the performance scores of Ethiopian students in mathematics is low. Ethiopia has been working with Japan, through JICA, to improve mathematics and science education. In the past decade, JICA has conducted the SMASEE and LAMS projects that focused on improving the teaching and learning methods in the sciences and mathematics for Grades 7 and 8, nationwide.
To further develop the comprehension of mathematical concepts, JICA has recently launched the "Project for Mathematical Understanding for Science and Technology (MUST)" to focus on raising student's knowledge of mathematics by improving teaching practices and adding remedial classes for students. The MUST project will focus on developing lesson support materials for Grades one through eight in four designated regions: Amhara, Afar, Oromia and Southern Nations Nationalities and Peoples (SNNP).
With the assistance of Japanese experts, the current curriculum and textbooks will be analyzed and new lesson support materials will be drafted. Ethiopian teachers will review the materials and localize the content as necessary. Four schools will be chosen in each region to pilot and evaluate the materials. The overall aim is to disseminate lesson support materials, training materials and videos nationally at the completion of the project in August 2023, with the view of having the teaching and learning method developed by MUST adopted into the Ethiopian curriculum.
This projects contribution to the SDGs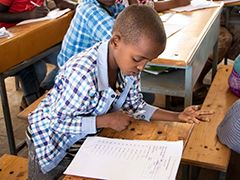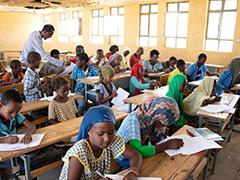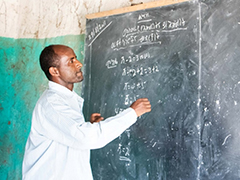 Baseline survey of schools in Afar region has begun.