JICA and the US Embassy are principal sponsors of SoveIT, the largest start-up event in Ethiopia organized by iCog Labs. More than 2,000 participants from the ages of 18 to 28, in 15 cities, have registered for this innovation competition.
Samurai Incubate Africa Inc., a venture capital based in Japan based has successfully signed a Memorandum of Understanding (MOU) with iCog Labs as of June 06, 2019. This is the second MoU between iCog Labs and a venture capital, following the one signed in April 2019 with US based venture capital. This MoU clearly emphasizes that Samurai Incubate Africa and iCog Labs will collaborate with each other for Solve IT 2019 and for strengthening the startup field in Ethiopia and other countries to expand their reach.
Takuma Terakubo, CEO of Samurai Incubate Africa, noted that "innovations from Africa will be at the forefront of the world. We want to support innovation in Ethiopia with iCog Labs by introducing our experience to local entrepreneurs" and Getnet Aseffa, CEO of iCog Labs added "Nowadays technology is moving at the speed of light, we must think and act globally; and the exponential growth of technology allows us to do so. The iCog-Labs community is very proud to be working with JICA and Samurai Incubate Africa on supporting innovators across all regions of Ethiopia and we are also planning to scale it to involve more African innovators. We are inviting all innovators, incubation hubs, government institutes and investors to come together and change Africa."
#USInvestsinEthiopians #JICAinAfrica #SolveIT2019 #SamuraiIncubateAfrica #SamuraiIncubateInc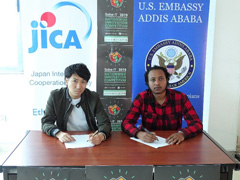 MoU Signing by Mr. Takuma Terakubo, Samurai Incubate and Mr. Hiruy Tsegaye, iCog Labs.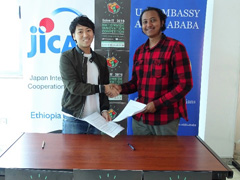 MoU Signing by Mr. Takuma Terakubo, Samurai Incubate and Mr. Hiruy Tsegaye, iCog Labs.